Spring Light Workshop: Photographing Mill Towns in Massachusetts

Visually explore Massachusetts' mill towns to be selected from Watertown, Waltham, Lynn, Lowell, Lawrence, Fall River, and Worcester. You'll learn to work photographically with spring light, interpret and portray earth-oriented experiences, and reveal truths about the land through a combination of examples, exercises, coaching, and writing. Basic photo experience (digital or film), preferably with manually operable equipment, is required. Be prepared to walk in inclement weather. For the first session, bring your camera (thoroughly tested, batteries charged) and up to five photo PRINTS showing your interests, level, and experience. The Center will arrange carpooling after the first session. Registrants will receive further instructions and directions. Please reserve the Sundays following the field trips for rain dates.


4 Saturday Photo Sessions: April 15, 12-4 pm. April 22, 9 am-1 pm. April 29, 5:15 am-9: 15. May 6, 4:15 pm-8:15.
4 Review Sessions, Fridays, 6-8:30 pm: April 21, April 28, May 5, May 12.
Photojournalism
A project-based workshop. We will make photographs that narrate characters, events, and locations. Drawing from a rich tradition beginning with the British photographer Roger Fenton, who photographed the Crimean War in the 1840s, and extending to the Brazilian photographer Sebastião Salgado and the American photographer Mary Ellen Mark, we will study and practice a photographic art that records, interprets, and persuades. We will research topics, examine examples of photojournalism that utilize a variety of styles and intentions, and design, implement and edit an independent project for powerful effect. We will examine photographic materials suitable to this type of photography—low light equipment, strobes, lenses, etc.—and photojournalistic techniques—gaining the trust of persons being photographed, surveying a scene, sensing light, etc. This class is for proficient photographers, using either film or digital.
Our first meeting is an introduction with a short field trip, the second will review progress on projects, and the last will review the completed work.

Two Saturdays, 9:30 am-4 pm, April 8 and May 20, and one Sunday, 1-4 pm, April 30.

---
Skip, thank you so much for everything. I think you are an extraordinary teacher and a beautiful human being! It has been a pleasure taking your classes and getting to know you. All the best, and I will look forward to taking another of your classes as soon as I can. (Benjamin Pasamanick, Contemplative Photography, fall 2016)
Thank you for the valuable tips. Your workshop has been a great learning for me and has inspired and initiated me in the world of photography. Your wonderful photography exercises expanded my horizon towards photography. I look forward to learning from you again. Wish you good luck and a very happy holiday season. (Ruchi Gupta, Fall Light, Photographing the Social Landscape, 2016)
It was a really great experience to see such high level work presented and hear the group critique. I can see what the group members meant when they said they always seem to learn something from each gathering. I also was struck by how much the group—most of them having been shooting for many decades— seem to be most interested in post production techniques. It seems that's where the excitement is and that was interesting to see. (Randi Rosenblum, Contemplative Photography, fall 2016)
I'm so grateful you're in my life. I love you and your ministries. We nourish and nurture one another. (Wendy Geiger)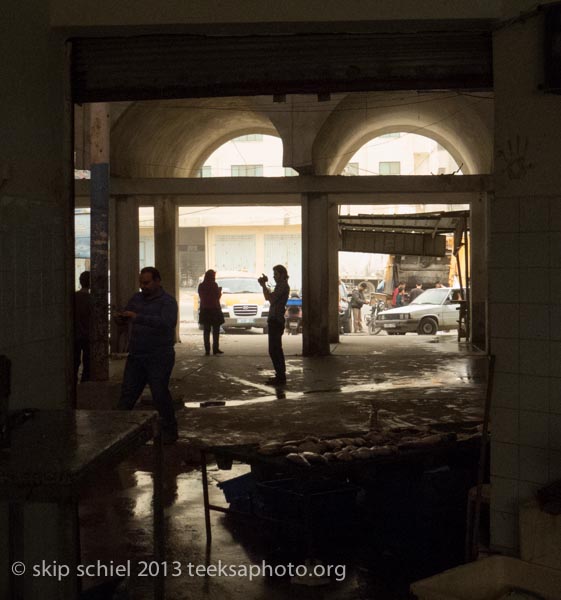 Fish Market, Gaza City, Gaza Strip, Palestine, photographic workshop, 2013