Quabbin—Silence, Darkness, Stillness

By Skip Schiel


A defining characteristic—an emblem—of Quabbin reservoir is silence, total, and darkness, equally total. As in most of the world, outside of cities, the region goes quiet: absence of vehicles, motors, sirens. And dark: absence of security lights, headlights, city lights. Only the sound of crickets, birds, a dog barking, a far away vehicle, soon disappeared, and (in a cabin on the lip of the watershed where I retreat) the light of kerosene lamps and small flashlights.

This can be troubling, as when awakening early (around 5:30 am) and finding only a dim morning light, hardly enough to see by. I light a kerosene lamp or candle. Or sitting reading in the evening, noticing the utter silence outside, inside, in me. Perhaps I sing, How can I keep from singing? Or let myself be absorbed by the silence. My cabin at Agape Community (a Catholic-based nonviolence center), the Hermitage, becomes a cell, but I am not imprisoned, I am set free. The silence frees me, the darkness releases me.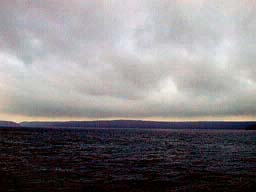 The absence of stimulation allowed me to notice how different each day's weather was—from the warm muggy still air to the cooler, drier, windier air, and back. An in-between time (late August), when summer is trundling out, autumn is traipsing in, neither sure of their schedule.

Rain felt imminent for much of the time, yet rain fell only on the last night, briefly and with gusto. During the week, temperatures dipped into the 50s, then climbed to the 80s. Nights were chilly or fetid, days were glistening or somber. All within one week, swing season time. This I noticed in the stillness of Agape, Quabbin, end of summer.

Adding to the silence and darkness was the odor, the aroma of Agape, of Quabbin. When I first arrived I noticed at the main house, St. Francis House, odors successively of pine paneling, burnt wood, cooking, carpets, candles and kerosene lamps, dogs, mustiness, and garlic-eating people. All within about 10 minutes, and in a space no larger than 15 by 15 feet. Outside, near Francis house, I could smell rotting vegetables, a pond, unidentified trees, and perhaps the far away waters of Quabbin. All this made possible by the absence of one odor: nearly ubiquitous burnt gasoline, the exhaust gas of motorized vehicles.

The air was clean, the air was clear, the air was light and delicate. Also heavy and thick. Moment to moment, it changed. Rather than a pall of thick fumes spewed from cars, trucks, buses, motorcycles, one cylinder engines on lawnmowers, weed whackers, chain saws, jet skis, I breathed in pure air, laced with a rich bouquet of fragrances.

September 2001, revised December 21, 2001