Teeksa Photography—
Skip Schiel
9 Sacramento St.
Cambridge MA
02138-1843 USA
617-441-7756
teeksaphoto.org (website)
skipschiel.wordpress.com (blog)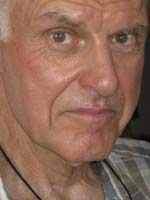 August 2009, Gaza, photo
by Ban Al-Ghussain
Self portrait, July 2016—Click for enlargement
Participatory photographer, socially engaged.
A participatory photographer, photographing while engaging in struggles for justice, peace, right treatment of the environment, and enlightenment, Skip Schiel makes photos for publications, exhibits, slide shows, and individual use. His main current projects include a photographic examination of conditions in Palestine & Israel, searching for the seeds of the new Detroit miracle, and Twilight, an exploration of light. Earlier projects included retracing the Transatlantic African slave trade journey (A Spirit People), the earth (Scent of Earth), prisons (Imprisoned Massachusetts), and a Buddhist-led pilgrimage from Auschwitz to Hiroshima (Passing Through).
He's also photographed environmental desecration, racism and racial justice, South Africa, poverty, American Indians, the US South, and resistance to oppressive regimes in the US and abroad. He is exploring digital technology, curious about its influence on photography—producing, consuming, and thinking about the photograph.
Since 1990 he teaches at the Cambridge Center of Adult Education, ranging from basic photography to digital darkroom and photographic field workshops concentrating on light in photography. He's also taught photography at the Landscape Institute formerly at Harvard, the Quaker Palestine Youth Program in Palestine, filmmaking for 10 years at Boston College, and various workshops at Quaker gatherings.
He joins with others in various campaigns for peace, justice, reconciliation, & truth-telling. He plays, experiments, & contemplates—might get arrested and imprisoned periodically. Maybe he joins a pilgrimage, a vigil, a rally or a talk or an outing along a river; maybe he simply stays home and absorbs the afternoon light.
He photographs: he is a socially engaged photographer.
He makes photographs for you a viewer, for his family and friends that you and they might know him more intimately, for himself to remember where and when he existed, and for you not yet born.
He invites you to examine what he's made & see what you think.
—Skip Schiel, February 2010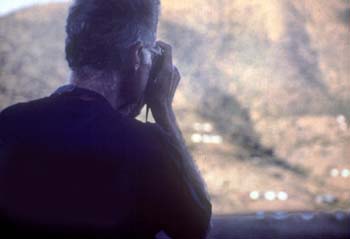 In South Africa, 1999, photo by Louise Dunlap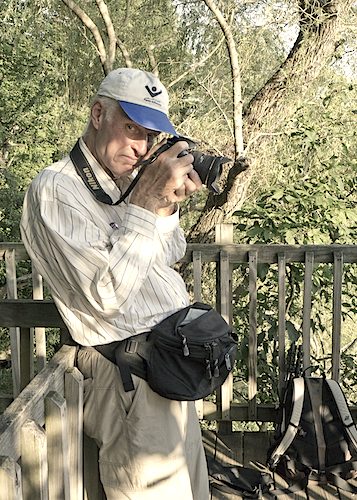 Teaching at Ipswich Massachusetts Audubon Wildlife Sanctuary, summer 2011, photo by John Edmondson—Click photo for enlargement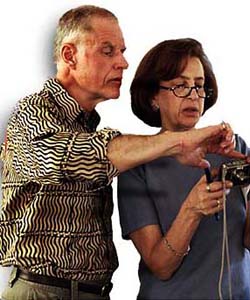 At the Cambridge Center for Adult Education, 2004,
photo by Steve Fitzsimmons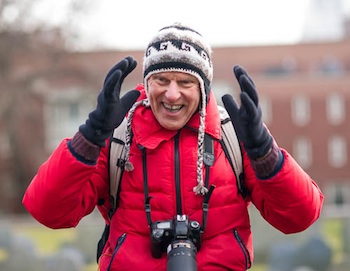 Teaching Winter Light, Photographing Boston's Cemeteries, 2012, photo by Eladi Bermudez—Click photo for enlargement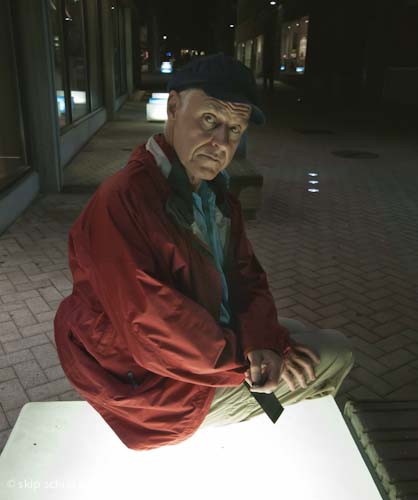 Self portrait, Harvard Square, Cambridge, July 2010—Click photo for enlargement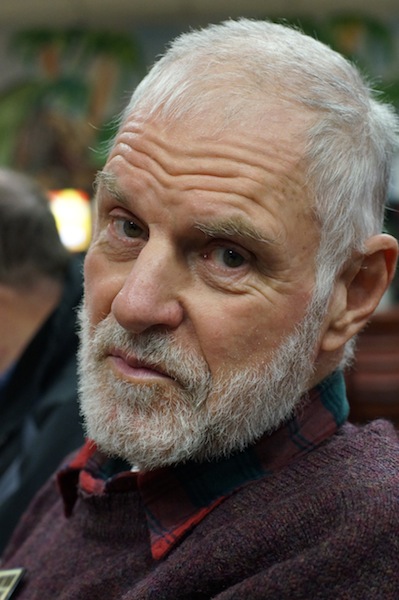 Photo by Sy Fiedland, 2013--Click for enlargement