Walking Montgomery to Selma, photo by Skip Schiel
STEP BY STEP, BUDDHIST-LED PEACE &
JUSTICE WALKS, A SLIDE SHOW
By Louise Dunlap & Skip Schiel
A little-known Buddhist group (the Japanese order, Nipponzan Myohoji, builders of peace pagodas and leaders of walks and pilgrimages) engages the tough issues of our times with rigorous prayer walks to sacred sites in the quest for justice and peace.With writer/yoga teacher, Louise Dunlap, a look back at over fourteen years of participation in these healing journeys. Highlights include Auschwitz to Hiroshima (1995); Wounded Knee & Native American sacred lands (1990 & 92); The Interfaith Pilgrimage of the Middle Passage, a year-long journey retracing the trans-Atlantic slave trade (1998-9); and the Hiroshima Flame Walk (2002).
The slide show reveals one less known aspect of Engaged Buddhism—off the cushion and onto the pavement—that will help contribute to building the peace and creating the justice.
To schedule a show please contact Skip Schiel.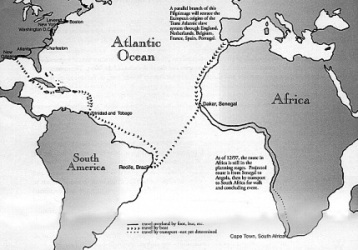 Map of the Middle Passage Pilgrimage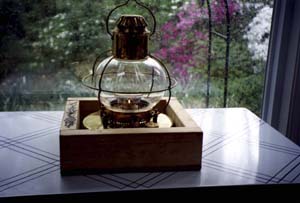 Hiroshima flame, photo by Louise Dunlap