Teeksa Photography

Photography of
Skip Schiel
All images and text copyright Skip Schiel, 2001

Mid Stream
A Report of My Activities Flowing from Walking with the Interfaith Pilgrimage of the Middle Passage
(June 2001)
Timing

Three years ago, in May 1998, I was about to embark on the Interfaith Pilgrimage of the Middle Passage (MPP), giving up my home (I hoped temporarily), on the road for 15 months, uncertain about the outcome of our organized attempt to retrace the African Atlantic slave route and experience. Two years ago I flew from Boston to Johannesburg, South Africa to rejoin the pilgrims for the concluding month and then reside in South Africa four more months to offer my photography to organizations helping to rebuild the newly freed democratic nation. In September 1999 I returned home and began what is a more difficult portion of my journey—the post production phase, doing something with my experience, sorting it out, comprehending it, shaping it so others can share it. I edit, that is, bring forth, which is the root meaning of the word edit. I now offer you, my benefactors and friends, a mid stream report.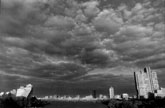 Boston, USA
One Sky
Numerous rivers flow from and back to the Pilgrimage of the Middle Passage. Our hope was to walk, pray, and reflect, examining history, offering prayers and ceremonies to those who suffered, seeking to change the legacy of slavery in its contemporary forms of oppression. I departed the main group after we'd completed the United States portion in New Orleans, returned to the deep south for four months to photograph for organizations that had aided us, and resided in South Africa four months to similarly offer my photography pro bono to groups seeking to benefit the emerging nation. While walking, while exploring, while residing, while photographing, above me always was one sky, the same sky, with myriad variations everywhere. Same cumulus and cirrus clouds in Alabama as in Massachusetts. Same westerly flow of air masses in the northern hemisphere as in the southern. Same moon over Manenburg, a township near Cape Town, as over the rural regions of Georgia. So the image of One Sky came to me as an emblem and title for my project.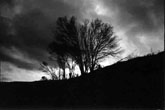 Cape Town, South Africa
Accomplishments so far
A Spirit People (the southern section of the MPP)—exhibited at the Birmingham Civil Rights Institute in Alabama along with a slide show presentation, March-April 2000. Also exhibited at Friends General Conference Gathering, Rochester NY, July 2000, New England Yearly Meeting (NEYM) sessions, Smithfield, RI, August 2000, and Friends Meeting at Cambridge, October 2000.
In the Footsteps of the Freedom Fighters (organizations and individuals in Alabama, Georgia, and North Carolina providing social services or challenging the system of oppression )—shown at the Cambridge Multicultural Arts Center, Cambridge, MA, December 2000. Also slated for New England Yearly Meeting sessions in Smithfield RI, summer of 2001.
Walk the Witness and other slide shows, either about the MPP or my experience in South Africa (some co-produced with Louise Dunlap)—shown at churches, schools, and community centers, such as Cambridge Center for Adult Education (CCAE), Paige Academy in Roxbury MA, Plymouth Church in Framingham, Friends Meeting at Cambridge (FMC), and the Juneau Friends meeting, from 1999 to present.
Publications—John Woolman and the Global Economy (a booklet about ways of addressing the injustices generated by globalization written by David Morse with my photos), Quaker Life, Fellowship (magazine of Fellowship of Reconciliation), Peacework (of the American Friends Service Committee), The Witness (published by the Episcopal Church), South African Development Fund's annual report, and other independent media, 1999 to the present.
Other exhibits secondarily related to One Sky—Interconnections at the Somerville Museum organized by The Art of Compassion in May and June 2001 and Environmental Injustices at the Gallery of Social and Political Art in Boston, February 2001.
Website—teeksaphoto.org currently hosts 3 separate sections related to One Sky (see URLs later).
Disseminating photos—to all people I photographed for, fulfilling promises. And over 100 slides (with Louise Dunlap, my partner, who has contributed in numerous ways) to the MPP organizers for their presentations, as well as photos to many of the pilgrims. I was deeply touched when an Afrikaner social services organization in South Africa that I served used my photos in several publications.
Soweto, South Africa
What does this public form of accomplishment entail?
Darkroom printing from my 100 or so rolls of black and white negatives. (Special thanks to David Avison who has generously opened his darkroom to me.)
Slide show editing of my 100 rolls of color slides.
Exhibit designing and preparing. In preparation are a two-person exhibit (with Soul Brown of the MPP and CCAE) at the Boston Public Library in March 2002 and an exhibit of South African photos at the CCAE in May 2002. And applications for exhibits at FMC, the Gallery of Social and Political Art, and other venues, local and national. Plus a traveling exhibit, already initiated by the Birmingham Civil Rights Institute.
Seeking venues and raising money.
I estimate I work between 10 and 30 hours weekly on some aspect of this project—dovetailing with other photo projects and teaching photography at the CCAE, and other elements of my life. These include maintaining relations with family and friends; duties at Quaker organizations; explorations of other topics thru trips, reading and writing; and simply resting and being. I support this work financially in two ways: shrinking my economic needs and earning a sufficient amount of money thru teaching and grants, along with occasional sales, fees, and bartering with my photographs. Thru largesse, people do acknowledge contributions to the larger society. A Friend lends me his darkroom—no charge. CCAE offers me its darkroom and computer center—no charge. Five volunteers assist me in darkroom work, a most surprising and heartening gift—no charge. My partner, family, and various friends, along with the larger Quaker community, have been most gracious in supporting me. I am not alone, I refuse to be isolated, I am held in the arms of forces both tangible and unknowable.
An important source of financial support is government aid. Oddly enough, government, The State—in the form of national, state and local government—has been generous in providing subsidies for my necessities: housing, food, health care. However, should a catastrophic event occur in my life, like a major accident, a serious illness, or debilitating infirmity from old age, I am vulnerable, like some of my wealthier peers no doubt. My position is precarious, but I remain confident that if I maintain my path, I will find the support needed to live and work.
Of the $28,000 total estimated cost of this project, I've raised some $5,000 (mostly from Quaker organizations)—a ways to go.
So much for outward achievements.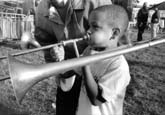 New Orleans
Inwardly, personally, what has occurred?
Increased awareness of racially-based injustice.
On a macro scale, the issue of examining the truth of our nation—founded not only on the principles of liberty and justice for some but on slavery and land theft for African and native peoples—has become central in my life. Along with many others, some Quaker, I labor to initiate in the United States a form of truth and reconciliation commission inspired by the one in South Africa. This commission or agency would not only examine our history and bring culpable individuals to public scrutiny, but would strive to foster reconciliation, atonement, forgiveness, and reparations. On a local scale, I feel myself more sensitive to manifestations of racism. For instance, at FMC, with others, I work to challenge how we present ourselves on our meeting center walls. The preponderance of dead white males raises a question: What do our walls show?
A strengthened commitment to ending oppression and
fostering justice.
I serve on two Quaker committees, Friends for Racial Justice at FMC (which I co-founded after a similar trip to South Africa in 1990), and the Committee on Prejudice and Poverty of New England Yearly Meeting (which I've clerked). In addition, I'm on the steering committee of a lay Catholic non-violence center in Central Massachusetts, Agape. Agape's direction has become much more attentive to racial matters, helping free a death row black man, and striving to better the conditions of an imprisoned black man who's been associated with Agape for most of his life.

I participated in the Massachusetts Interfaith Prison Pilgrimage in October and November 2000, helping design and produce a map of the Massachusetts prison system with John Schuchardt. It is now used by the American Friends Service Committee, among other organizations. And my design work and photos for the booklet, John Woolman and the Global Economy, speak to my efforts to understand and change the ill effects of economic and cultural globalization. Indeed, globalization—the growing dominance of corporations, the rise of greed as an operating principle, the diminishment of respect for the rights of workers, children, and the earth—is an overarching principle that helps us understand all forms of injustice. I've joined and photographed local manifestations of the movement to quell the drive for profit. Thru my photography and presence I supported the Living Wage Campaign that recently successfully ended a 21 day building take-over at Harvard University.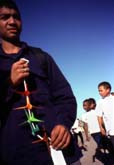 Manenburg, South Africa
Increased international awareness, especially about South Africa and other African nations.
Putting faces to issues is vital. I've been privileged to know personally the director of the Quaker Peace Center (QPC) in Cape Town, Jeremy Routledge, his wife who is now the deputy minister of defense in the South African government and an elected Minister of Parliament from KwaZulu Natal, Nozizwe Madlala-Routledge, and their two sons, Martin and Simon. Recently I helped arrange contacts for two QPC staff visiting the Boston area seeking funding, and might help initiate an internship with the South African government thru Nozizwe.
New directions in photography.
One example: this summer I'm scheduled to lead a workshop at Friends General Conference gathering entitled Photography as Prayer, a topic I might never have explored if not for the Pilgrimage. I've come to realize more deeply the importance to photography of solitude, silence and prayer—all hallmarks of my pilgrimage experiences.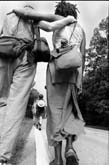 Middle Passage Pilgrimage
Frustrations & Disappointments
A few—The slow pace of work, innumerable distractions impeding full concentration on post production, insufficient money, people not acknowledging receipt of photos, organizations not fully using the photos I provide, the link I'd worked toward between US young Friends and counterparts in South Africa not yet jelling, drifting out of touch with people met along the way, and me doing most everything myself, including promotion and fundraising.
What's next for me?
This One Sky project is only 3 years old (or 4 if I count the one-year preparation I put into making the journey). How much longer? Lots longer, probably my entire life (I'm 60 years old, I think about how short a life is, I think more and more about how short a life is, neither wishing to rush to conclusion nor dilly dally with trivialities). Let's say another 2 or 3 years before embarking on the next major project. And what will this period include?
More of the above, but specifically exhibiting the northern section of the MPP photos; printing and exhibiting the black and white South African photos; and completing at least 2 more slide shows, one about South African organizations helping to recreate the country, the other depicting my solo journey thru the US Delta, New Orleans to Chicago in late 1998 when I departed the MPP and began a personal quest for an illusive personal history. Finally, I am planning a comprehensive slide show about my experiences on the MPP. I'll raise money thru grants and fees; seek venues for exhibits, slide shows, and publications; follow rivulets related to the One Sky main current; and hope for the best, always amazed at how a life unfolds often without conscious steering. A river, by nature, meanders, but eventually reaches the ocean.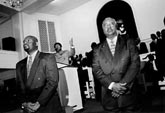 First Iconium Baptist Church,
Atlanta, Georgia
Gratitude
I'm grateful to all who have contributed to this work, and wish them well in choosing projects they will continue to expedite. Many thanks. See you down the road.

You may have left the richness of our struggle
For another more polite environment
But it is far from over
We shall rebuild
We are rebuilding!
A movement that will not allow
Its diamonds to be pillaged
Or slip through our fingers
Into the grubby hands of phony patriots
So turn around
It's not too late
For here there is meaning,
Love and solidarity,
Strained and faltering
Often unspoken
But as real as earth
To last a lifetime.

—Stephen Faulkner, a trade union activist in South Africa, from "Remembering," in Waiting for Ibrahim, A Collection of Poems for Friends and Comrades, 2001

Roxbury, Massachusetts
To view my earlier report on the web, written in October 1999—
Eyes Wide Open, Feet Walking
The online exhibits
In the Footsteps of the Freedom Fighters
Visions of the New South Africa
Cape Town, South Africa
Special Thanks
Friends Meeting at Cambridge, its Special Sources Fund.
Salem Quarter, its fund.
Lyman Fund.
Many friends and family, their financial and prayerful support, highlighting my partner, Louise Dunlap, who guided and inspired me; Katy Schiel and Joey Schiele, my loving daughters; David Avison opening his stellar darkroom to me, offering his wise counsel along the way; and Dan and Elizabeth Turner, stalwart friends and cohorts.
The organizations that hosted me, including the Birmingham Civil Rights Institute, the Voting Rights Museum and Institute in Selma Alabama, Savannah Georgia's Department of Community Services, the North Carolina Racial Justice Network, and First Iconium Church in Atlanta Georgia. Also Nipponzan Myohoji, a Japanese Buddhist order who initiated and sustained the Middle Passage Pilgrimage, mentioning in particular, Sister Clare Carter, sister Ingrid Askew, Brother Kato, Brother Utsumi, and Sisters Jun-san and Denise.
In South Africa, more gratitude to other hosting organizations, especially the Quaker Peace Centre in Cape Town, Ditsela in Johannesburg, Linda Twala and the Elderly Center in Alexandra, Oukasie near Pretoria and the Dutch Reformed Church's social workers in Middelburg. Also Bobby Marie who kindly let me eat and sleep at his home in Johannesburg and Judie Blair of the South African Development Fund who provided me vital contacts.
Skip Schiel
9 Sacramento Street
Cambridge Massachusetts
02138-1843
skipschiel@gmail.com
classroom.ccae.org/~schiel
August 22, 2001