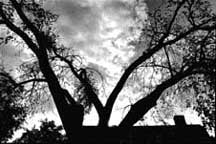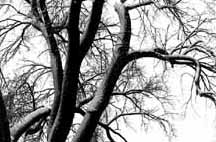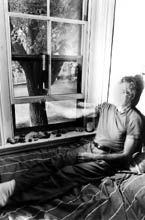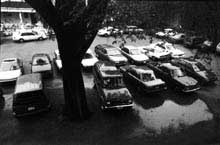 The tree, an elm, probably at least 120 years old, is the last of three in what was once the garden of a manor, and is now a gravel-covered parking lot next to 9 Sacramento Street. It lived just outside my window, 30 feet from my bed. In 1990, a friend made a photograph of a similar tree, put it on a card welcoming me to my new home. I was inspired to photograph the elm.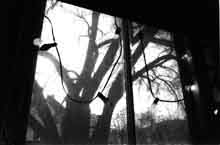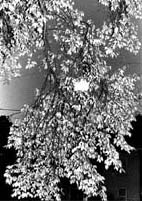 Dreams of the tree? Speech between me and the tree? A shared spirit with the tree? Perhaps. The tree was there each day of the year, through the seasons, coming full circle around the earth's axis with me beside it each 24 hours and around the sun each of 365 or so days. We were constant companions.
Like Monet painting Rheim cathedral and like Steiglitz photographing Georgia O'Keefe, I have photographed this creature for over six years. All seasons, all times of day and night, through all my anxieties, loves, losses, sadnesses, elations, jubilations, enlightenments. Playing with light, time, frame, vantage point to see what of the spirit of the tree I might reveal.
When I began, I didn't know how the project would finish, whether it would finish, what might be valuable to show publicly. I mused that later, as with a journal, when others have had their say, or the tree had died or maybe I would die before the tree, be buried beneath it, or the tree felled, its roots eradicated, making way for a building, or cement, or a playground, maybe then we'd see something of what this series might be.
Beginning this project, I entered a zone of mystery.