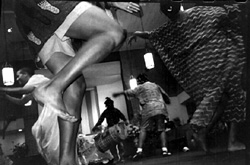 A Spirit People: One View of
the Interfaith Pilgrimage of the Middle Passage
Retracing the route of the African slave trade, honoring the African ancestors, exploring history & contemporary implications of human bondage, & living a multicultural life
From Massachusetts to New Orleans
May-November 1998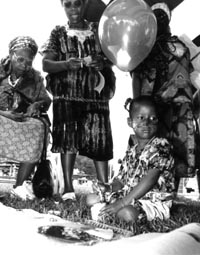 About the Color Line
Thru the eyes of a European-American male, African American people in families, schools, organizations, gatherings, celebrations & faith communities
Chicago, Boston & the deep south
To the viewer:
Through photography I love: partner, daughters, friends, the earth. Through photography I am angry: at injustice, pomposity, violence, deceit, ignorance, greed. Through photography I am perverse, critical, analytic, emotive, radiant, clumsy, elegant. Through photography I am a person of the world, of the cosmos. And I am a recluse, an isolate, a monk.
For all this I am very grateful.
I praise my photographic lineage-ancestors who have taught me, contemporaries who cooperate with me and successors who might benefit from what I've attempted to do. I thank the great spirit, god, the higher power, the ground of being, the pulse of the universe for allowing me-perhaps -to be aligned with this force, rather than opposed to it.
Photography is my main form of prayer-I pray outward to the beings, things, forces I photograph. I pray inward to my own center by sensing the light within. I pray to others by showing them my photos. I link with the light, both inward & outward. Photography fuses my many tendencies, it allows expression of my various urgencies.
May these images better balance the plethora of main media images we constantly experience: catastrophe, despair, ruination, death. May they help broaden the palette of art to include hope, faith, fun, exhilaration, antics, joy, friendship, worship. In the midst of a troubled time, may they affirm the life force.

Teeksa Photography-
Skip Schiel
skipschiel@gmail.com
9 Sacramento St.
Cambridge MA 02138-1843
USA
617-441-7756

www.teeksaphoto.org